One of the (many) fun things of playing in a New York City band is that you get to be in a lot of different rehearsal studios.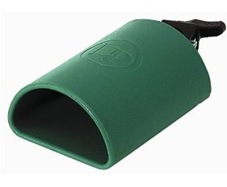 That's great, because we don't plan our rehearsal very far ahead, and with so many places all over town we can almost always find a place, even last-minute.
And another fun thing about it is that – as a drummer – you get to play on so many different drum kits. There's an element of frustration to that, too – I always end up spending at least 15 minutes each rehearsal moving around toms, adjusting hardware, and changing the 'resident' cymbals for my own. And for some reason the cheap and beat-up kits always sound great and the $3,000-plus kits always sound crap (which goes to show that investing in an expensive kit means nothing if you don't know your Drum Tuning 101).
But recently, in one of those studios with a bad-sounding expensive kit, there was this treasure chest of percussive delight – rainmakers, shakers, claves, cowbells… and an ugly green cheap plastic LP woodblock. I went "hmm", attached the little green woodblock to my hi-hat stand, and without telling the other guys just started using it.
So Rob was like "is that a little woodblock action going on there?" and I was like "yeah" and he was like "killer". So the woodblock sound had found a fan base and it was decided I should get one.
The next day I went to the music store and tested every woodblock and cowbell they had in search of the best sound. I tried all the red, blue, black, stainless steel, and actual wooden stuff they had, in every possible price range; even considered getting an electronic pad with programmable percussive sounds; almost ended up with an overpriced matte-black block because it looked so cool and was endorsed by one of my favorite drummers; and in the meantime my girlfriend patiently followed me around the store while the store clerks started to throw me increasingly annoyed looks and every other customer flinched at the sound of me whacking on the next piece of metal or plastic or wood.
I ended up buying an ugly green cheap plastic LP woodblock.